On Friday, I shared my very favorite gift that I gave and was given back. Today, I hope I can provide some inspiration for a wonderful, personal and perfect gift for Mother's Day. My Mom actually insisted that I share this project – she says, without question, this is the absolute best gift I have ever given to her. That still amazes me! She says that she looks at it all the time and loves it so much because of the time, thought and yes, a lot of laughter that went into making it. Most of all, she says it's something no one could ever buy for her and it's really and truly, all about her. I say…home run gift!
While this could kind of be described as a scrapbook of sorts, it is so easy to do. Even if you've never made a scrapbook in your life, you can make one of these. I promise! I wanted to share this in plenty of time for you to put on your thinking caps and get started. Since my Mom has not embraced technology and isn't online, she doesn't quite completely grasp the whole blog and sharing concept. Better just share a few pages that aren't too personal…she has friends and neighbors who ARE online! (smiles)
I used every letter of the alphabet to come up with a word that described something about my Mom. Once you get rolling, you'll be surprised how fast and furious the ideas will come to you! After I had all of the "words," I wrote up a little sentence or phrase to describe it or why the word described my Mom. I used Microsoft Word to lay out each page so the pages would be consistent and the same size, printed each page on card stock and trimmed each page down to the correct size.
You can use either a wire-bound book in any size you like or, if you have a Zutter Bind-It-All, make it the size you want and bind it together! The book I made is 5 1/2″ x 6″. I used a black paper with tiny white polka dots for the background on each page. Since I wanted each letter of the alphabet to stand out, I used chipboard letters and covered each one in coarse, black glitter for texture. Each glittered letter was mounted on a small, pink cardstock square turned on its side and outlined with black Stickles.
For additional consistency from page to page, I used small Prima flowers in various pink shades, highlighted with Crystal Stickles, on the four corners of each page. Some embellishments were added to match each page for fun, just a little touch here and there.
I kept the cover simple – a pretty sticker frame, glitter letters, Mom in black velvety stickers and of course, a crown for Mom! I tied various pink, black and white ribbons around the wire along the top.
This same idea can easily be used to make a special book for anyone – how about for Father's Day, a milestone birthday, a graduate? I guarantee the lucky recipient will love it and how could they not? It's made with love, by you, and truly demonstrates how very special they are. It's all about them!
I hoped I have inspired you to make a book! You'll have a total blast making – and giving – this unique gift!
Now….I have to put on MY thinking cap and try to top or at least match this gift for Mom this year. Yikes!!! I'm working on it!!
Have a great Monday and your visit always makes me smile!
Linking up this project at these fun and fabulous parties!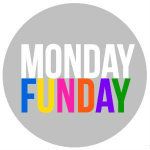 http://cupcakesandcrinoline.com/2013/04/project-inspired-linky-party-week-9

Saturday Show & Tell at Cheerios and Lattes