When you live with a die-hard meat and potatoes guy, "salad" is usually thought of as a side dish and SO not the main event! However, I discovered if you put some meat in the salad, it's a whole new ballgame! From the nutty basmati rice to the smoky, earthy flavor of the cumin balsamic vinaigrette, the melding of flavors in this salad is delicious. With the addition of tender, sirloin steak, it got a big thumbs-up at the dinner table!
I had a salad similar to this one when I was invited to dinner at the home of a colleague once and fell immediately in love with it. Although I didn't ask for the recipe, I figured I could re-create something close at home. There is nothing totally "exact" about this salad, which is the beauty of it! You can add whatever kinds of lettuce and vegetables you like. Personally, I would like to use a different blend of lettuces, but Mr. Smarty Pants only likes plain old iceberg! That's what I used in this recipe.
This makes a large salad – add some nice crusty, bread for dinner and you also have a fantastic lunch for the next day!
Basmati & Sirloin Salad with Cumin Balsamic Vinaigrette
Ingredients:
1 head of iceberg lettuce

1 container of cherry tomatoes

2 bundles of green onions

1 jar of large, pitted black olives

1 lb. of thin, sirloin steak

1 cup of basmati rice

Extra-virgin olive oil

Balsamic vinegar

Cumin

Salt & pepper
Wash, dry and tear approximately 2/3 head of lettuce into a large bowl. Add cherry tomatoes, black olives and thinly sliced green onions.
Broil sirloin to desired level of doneness. Slice steak into bite sized pieces and add to salad.
Combine 1 cup of basmati rice and 1 ¾ cup of water in a saucepan with a dash of salt. Over high heat, bring to a boil, uncovered. Stir, reduce heat to simmer, cover and cook 12-15 minutes, until water has evaporated. Remove rise from heat and let stand about 4 minutes. Fluff rice with fork and add to salad.
Prepare balsamic vinaigrette: The vinaigrette is made a little bit to taste! I used 1 ½ cups extra virgin olive oil, approximately 1 ½ tablespoons of balsamic vinegar, ½ teaspoon salt, ¼ teaspoon pepper and a lot of cumin! Add about 1 tablespoon, whisk and taste. The cumin flavor should be very pronounced; add more if needed. Don't let the balsamic overpower the vinaigrette.
Immediately after adding the basmati rice to the salad, pour the vinaigrette over the salad and toss well. Serve and enjoy!
This basmati & sirloin salad is satisfying for both dinner and lunch.
Thanks for stopping by and I hope you'll give this totally delicious salad a try! Have a wonderful Sunday.
Linking up this recipe at:

Two Cup Tuesday at:

Will Cook for Smiles Award Link Party!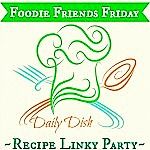 Some recipes from fellow bloggers that I thought you might like to visit: