Wishing all of the Dads a happy day today! This day is always bittersweet for me. Sweet, because my children are so fortunate to have such a loving and devoted Dad. Sweet for another reason, too, which I'll share at the end of today's post. Bitter, because I lost my own wonderful Dad far, far too early. I'm forever grateful, though, that I was blessed to know him and have in my life, even if for too brief a time. After all of these years, it's still a difficult topic for me. This dessert, a perfect marriage of sweet and sour – lemon and lime – seemed to strike the right chord for today. The fact that it is beyond delicious pushes everything to the sweet!
A friend of mine had used wontons for a dessert once and I totally used her idea! Wonton wrappers are so versatile – one minute their savory, add some butter, sugar and fantastic filling and well, we've got one refreshing, summery dessert! I love lemon curd and decided to try a lemon-lime mix. Can I be honest? It's awesome!!!
Top these little treats off with any fruit that you like – I used raspberries – plus a little mint leaf for garnish. Easy and quick to make! The curd needs to be refrigerated for about 4 hours to chill thoroughly and will keep nicely in the fridge in a covered container for up to five days. Bake up the wontons, fill and present on a pretty plate! I made 12 cups but there's plenty of curd so you can make more. You will need two mini muffin pans to make 12 cups.
Lemon-Lime Curd in Sugared Wonton Cups
Ingredients:
Lemon-Lime Curd
2 eggs plus 2 egg yolks
½ cup sugar
8 tablespoons of cold, unsalted butter, cut into pieces
3 tablespoons fresh lime juice
3 tablespoons fresh lemon juice
1 teaspoon finely grated lemon rind
1 teaspoon finely grated lime rind
1/8 teaspoon salt
Mix together eggs, egg yolks and sugar in small saucepan over medium heat. Whisk in the lemon juice, lime juice, both zests and salt. Add butter and cook, whisking constantly, until butter is melted and mixture has thickened, about 4 minutes. Don't let it boil and keep whisking! Cool the curd to room temperature and whisk frequently. Cover the saucepan with plastic wrap and refrigerate until well chilled, about 2-3 hours.
Sugared Wonton Cups
12 wonton wrappers
¼ cup of sugar
2-3 tablespoons melted butter
Preheat oven to 350 degrees. Melt 2-3 tablespoons of butter. Place sugar in a large, shallow bowl. Brush both sides of wonton wrapper with melted butter and dip one side of wrapper in sugar. With sugar side up, press the wonton wrapper into a mini muffin cup. Repeat with 11 more wrappers, placing them in every other cup so that the edges don't touch.
Bake wonton cups until lightly browned, about 7 minutes. Cool in pans on wire racks and remove cups carefully. Fill each sugared wonton cup with lemon lime curd, top with fruit and garnish with a mint leaf.
Not only do these taste fantastic – they're pretty, too!
Now, for the OTHER sweet thing! Today, my handsome son and beautiful daughter-in-law are celebrating their first wedding anniversary. So hard to believe it's already been a year. I so, so, SO wish we didn't live so far away from one another. Happy Anniversary, Scott and Chelsea! Love you both! I just love this wedding photo of them – a pretty stunning couple, if I do say so myself!
If you missed it, earlier this year, I shared everything we made for their destination wedding – maybe there are some ideas and inspiration for a wedding that might be coming up in your family! The whole week of ideas starts here.
Thanks so much for sharing a little bit of your day with me. Hug your Dad extra tightly today and enjoy every precious second!
Linking up to these great parties!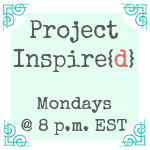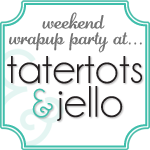 The Pink Recipe Box Creative Wednesday Party