Sometimes, if I'm feeling a little bit off kilter, I'm known to take find solace in a treat that reminds me of childhood. Do you ever do that? A quick culinary visit to days gone by can get me back to center in a hurry– especially if there's ice cream involved! I was – AM – a huge ice cream, shake and float fan and have been since I was a little girl. This 60's era, retro Cherry Shake Float is so simple, so delicious and so satisfying, you just have to smile and be happy when you have one!
My maternal grandmother, "Nanie," had a major big time sweet tooth and wow, did she love ice cream! There was this darling little corner store not far from her house. It was a treat to go there for penny candy, ice cream and sundaes. More often than not, though, we concocted coke floats, banana splits and milkshakes right at Nanie's house. I always loved her pink depression glass, especially this tall, pink glass just perfect for a milk shake! We took this Cherry Shake to the next level by turning it into a float. To make my floats extra special, Nanie served them to me in this special, pink glass.
Cherry Shake Float
This easy recipe can be changed to make the shake as thick you'd like! It can be a standard shake or make it really over the top as a float!
Ingredients:
2/3 can cherry pie filling
1 ½ pints vanilla ice cream
2 tablespoons fresh lemon juice
1-2 cups milk, depending on how thick or thin you like your shake!
Whipped Cream and a Fresh Cherry (optional)
Let vanilla ice cream soften a bit. Add cherry pie filling, ice cream, lemon juice and milk in a blender. Blend on high speed until well mixed, thick and frothy; add additional ice cream or milk to bring to the consistency you like.
If making milk shakes, pour into glasses and serve with a straw. For a float, pour shake into tall glass, add a big scoop of vanilla ice cream, a dollop of whipped cream and top with a fresh cherry.
At one time, there used to be six of these glasses. In my early 20's, when they were down to four, my Nanie gave them to me. Sadly, two were broken while moving over the years and recently, one of the final two got a bad crack when I accidentally hit it against the sink when washing it. I'm holding on to that cracked glass, though, and this one, very precious last, intact pink glass. I don't allow myself to use it very often. It probably seems silly, because I have so many things from my grandmother. This pink glass, though, it never truly empty. It's filled with lots of lovely memories, laughter, love and every once in a while – a wonderful Cherry Shake Float! Do you have a favorite childhood treat that you still like to enjoy today? I'd love to hear about it!
Thank you so much for sharing a little bit of your Sunday with me and hope your day has an extra-large cherry on top!
Linking up to these parties!

 Will Cook for Smiles Award Show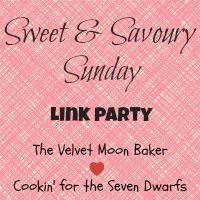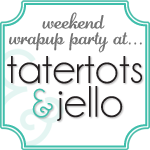 Throwback Thursday at An Alli Event