Good morning and welcome to the Grow Your Blog Networking Party.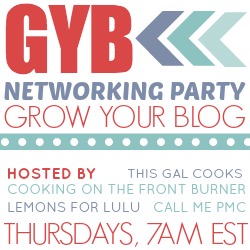 I'm excited to be co-hosting today's GYB party – I might be officially on vacation this week, but what better time for me to party? 🙂 The party is a fantastic way to meet new friends, discover new blogs and network! Personally, I have loved every single party I've attended because without them, I would never have had the opportunity to meet and connect with so many other amazing and talented bloggers. Great friendships have evolved from these connections – plus support, understanding and best of all, much shared laughter!
There is a new feature to the party this week! Each host will feature a blogger that linked up at the party last week – so if you link up today, YOU could be featured by one of the hosts or co-hosts next week!

I am so happy to feature a blog and blogger that I discovered at last week's party!
Cara from Craft Dictator

Cara is an engineer by day and crafter by night! She loves quilting, anything where she can use Mod Podge (a girl after my own heart!) and trying new recipes! I also think it is way cool that her mom is a blogger, too! Check out Cara's great blog – I love the hanging Mason jars that greet you!
The GYB Networking Party
Grow Your Blog

Your GYB hosts are, Paula from Call me PMc, Deb from Cooking on the Front Burner, Tanya from Lemons for Lulu, and Julie from This Gal Cooks.

What is the Grow Your Blog Networking Party all about? NETWORKING. Meeting new bloggers, finding new content to follow, building your readership. Why is blog networking great for you? Simply put, it increases readership and traffic to your blog. How do you network? Visit. Comment. Invite. Communicate. These are key to growing your blog

Let's meet your hosts and co-hosts. Please stop by, introduce and leave a meaningful, engaging comment with each host and co-host. I can guarantee that the hosts will reply to your comment and try to get to your blog to engage in conversation with you!
YOUR HOSTS
Julie from This Gal Cooks (Host)
Paula from Call Me PMc (Host)
Deb from Cooking on the Front Burner (Host)
Tanya from Lemons for Lulu (Host)
Carrie from Frugal Foodie Mama
Jen from Endlessly Inspired
Cindy from Little Miss Celebration
Jenn from Boys Will Be Boys
WHEN YOU LINK UP TO THIS PARTY:
Follow and/or visit your hosts and co-hosts. Leave a comment on their blog letting them know you stopped by!
Link up the main page of your blog, not an individual post.
Visit and follow other bloggers
Leave engaging comments on the blogs that you visit.
Invite them to visit your blog. Leave the name of your blog in a comment. Please do not leave a link – Google is going to start viewing links as Spam and they will decrease page ranking of sites that are viewed to have a lot of Spam.
Place the party graphic on your page. It's not required but it would be a pretty rad thing to do. You can get the graphic by copying and pasting the GYB graphic located in the beginning of this post.
LINK UP YOUR BLOG